The Final Cut: A Closer Look at the 2018 Oscar Nominations for Best Picture, Part 2 of 3
Awards season is finally upon us and, following a remarkably strong year of film production, the buzz surrounding the Oscars seems to be constant. Critics are incessantly praising their picks, debates with friends are ensuing and fans are defending their choices to the end. With such extraordinary films all being released in the same year, it is only logical that it would come to this. Should we choose the coming-of-age film, or the historical drama? The social critique, or the fantasy world? And so, with these tiffs ensuing more and more each day, we at ST.ART decided to take action. During the weeks leading up to the Academy Awards, each of the films nominated for the 'Best Picture' category shall be discussed by an avid proponent who believes it should win the prestigious award.
The question is simple, why should your film win the Oscar for 'Best Picture'?
Christopher Nolan's Dunkirk
Written by Alex Upshaw
As the Academy Awards approach their 90th run, sixteen Best Picture winners have been war movies. From Wings in 1928 to, most recently, The Hurt Locker in 2009, movies centring on wars have always fared well in the Oscars and other awards shows due to their inherent emotional impact and tendency to look into universal and timeless aspects of humanity. Dunkirk is no different in that respect, and yet it stands out for many other reasons, reasons that make it more than deserving of claiming the title of Best Picture this year.
Although it ranks in just behind Shape of Water in the number of nominations with eight in total (Best Picture, Best Director, Best Cinematography, Best Film Editing, Best Production Design, Best Score, Best Sound Editing, and Best Sound Mixing), it has no nominations in writing or acting categories. If it wins, Dunkirk would be the first Best Picture winner without any writing or acting nominations in 85 years. That is huge. The most common criticism it receives is its lack of strong characters and meaningful dialogue to connect with, but I see these as strengths. Many war films focus on a few core characters and flesh out their backstories, sometimes stepping out of the battlefield context with scenes of loved ones to provide character backstory or scenes of politicians discussing strategy to provide historical exposition. Dunkirk doesn't do this. It never once strays from the action, making audiences just as unable to escape the immediate danger as the often nameless characters, and shows us the expendable nature of soldiers in war. Individuality is lost and nobody is more important than anyone else in the eyes of death; all of them feel the same level of unimaginable terror. This insignificance adds an extra layer of heartbreak to each character's experiences, as we don't have a main cast of characters that we know will mostly survive: they are just as aware as we are of the fragility of morality.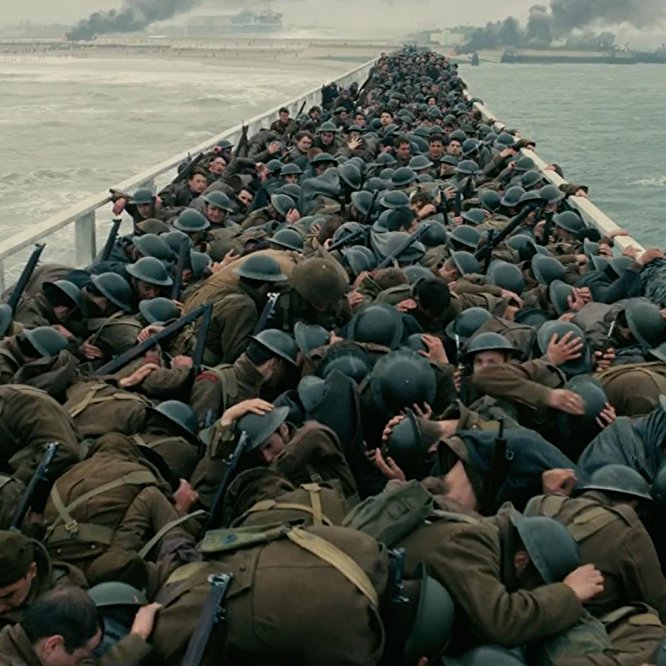 In its technical aspects, Dunkirk is nothing short of perfection, which is evident in the nominations it's received. The score and sound editing are superb, plunging audiences into the action from the very first second until the end of its 107-minute run, never giving you a moment to breathe. The editing and cinematography follow suit, flinging you between storylines and scenes at rapid-fire speed to fully immerse you in the same frame of mind as the characters that you're watching on screen; a mind overwhelmed by the anxieties that come from hurdling unforeseeable obstacles as they come, and acting on instinct in order to survive by any means necessary.
However technically explosive, big budget 'made for the big screen' action movies aren't too hard to come by these days. What makes Dunkirk once again stand out from the others is its story, artfully crafted by Christopher Nolan to propel viewers into what is at first a ridiculously confusing three-narrative epic which solidifies into profound clarity as all the narratives match up beautifully. Nolan outdoes himself with Dunkirk's intricately woven timelines happening at different speeds from the three perspectives: the air, the sea, and the land. The way that all the puzzle pieces connect is difficult to describe and must be experienced, which is exactly what Dunkirk is: an experience like no other on both a cinematic and deeply visceral level, both grand in scope and deeply intimate, and ambitiously capturing the solidarity and resilience of the human spirit.
Paul Thomas Anderson's Phantom Thread
Written by Gabriel Robinson
A film that is certain to divide audiences is Paul Thomas Anderson's Phantom Thread, Anderson's second collaboration with acclaimed actor Daniel Day-Lewis. Supposedly Day-Lewis's final on-screen performance before retirement, the movie follows a dressmaker (Reynolds Woodcock) and the simultaneously passionate and vitriolic relationship between himself and the clumsy but iron-willed Alma (Vicky Krieps), his muse and lover. Meanwhile, his sister Cyril (Lesley Manville) mediates the relationship, revealing the power dynamics bubbling under the surface of the couture fashion house of Woodcock.
It takes absolute inarguable talent to go toe-to-toe with a man many have described as one of the greatest living actors, yet both the (relatively) unknown Vicky Krieps and veteran actress Lesley Manville hold their own, often toppling Day-Lewis's Reynolds Woodcock from the perch upon which he dominates the scene. In one particularly venomous scene, Cyril offers a riposte to her brother: "Don't pick a fight with me. You won't come out alive." It's not a threat – it's a promise.
To speak of the movie's venom isn't to imply that it's cold-blooded. In fact, Phantom Thread may well be one of the funniest movies nominated for Best Picture this year. Paul Thomas Anderson has proven in the past that he is able to mix the serious with the comical like an expert chef, but never to the extent that is displayed in this movie – a result that can only come from a combination of excellent writing and bone-dry delivery.
Like The Shape of Water, Phantom Thread is also unreservedly romantic. However, whilst on the surface, the latter may be seen to appeal to more traditional romantic values (i.e. relationships not involving amphibians), the movie is soon revealed to be something much more twisted and unconventional. It's clear that both Guillermo del Toro and Paul Thomas Anderson are experts in deconstructing romance to its most basic elements and spinning them in such a way that makes you feel as if you are discovering love for the very first time.
The real unsung hero of Phantom Thread, however, is Johnny Greenwood and his incredible score that underlies 70% of the 130-minute movie. The score here is one of the best I have ever heard, and marks Greenwood's fourth collaboration with Anderson. One can only hope that, even if we don't get another Day-Lewis/Anderson team-up, we'll still get another Paul Thomas Anderson film with a Johnny Greenwood score. Should Phantom Thread win only one Oscar this year, it'll be the 'Best Original Score' award that it deserves the most.
This all adds up to make Phantom Thread exactly like one of Woodcock's garments – expertly crafted, beautifully presented, and layered with meaning. "You can sew almost anything into the canvas of a coat," Woodcock reveals in the film. Paul Thomas Anderson has surely sewn something special into this one.
Joe Wright's Darkest Hour
Written by Catherine Thines
The latest in a long line of films about WW2, Darkest Hour (Joe Wright, UK, 2017) follows Winston Churchill (Gary Oldman) in the weeks after he has been made Prime Minister, disclosing his struggles in the War Cabinet of 1940 and his involvement in Operation Dynamo (otherwise known as the Dunkirk evacuation).
Facing an extremely fierce competition, this year's Academy Awards ceremony could really go either way; so what differentiates Darkest Hour from the other nominated films?
I could mention the great script (featuring inspiring speeches we all had to read in history class in high school), the soundtrack (a sweeping orchestral score that makes you feel powerful and tiny all at once) or the cinematography (captured beautifully by Bruno Delbonnel), or even Gary Oldman's tour de force embodiment of Churchill (complemented by an equally strong performance of Kristin Scott Thomas as Churchill's wife, Clementine). But its distinguishing feature lies not in its technical properties (although these are important, too), but rather in the message of courage it spreads.
All of these elements, under Wright's subtle direction, give life to a period drama that is at once depressing and extremely inspiring, and above all, true to the history and its legacy. As such, it unequivocally deserves all the official recognition it is granted, as well as the title of perhaps the best film about Winston Churchill that has ever been made, with his personal philosophy perhaps more relevant than ever. In times when people elect leaders because they know how to control and enchant the masses with a few (more or less) well-chosen words, when some groups prioritise themselves over others, when the whole world is trembling and faced with an uncertain future, when instead of huddling closer together we just drift further apart - indeed in times like the one we are living in now, it is good to be reminded what can happen when we let hate take over our hearts.
And it is good to see that even in our darkest hours (pun intended), there are people that bring in the light. Love him or hate him, but Winston Churchill helped change the course of the war in 1940. The Nazis could easily have won at Dunkirk - but they didn't.
Darkest Hour beautifully shows that perseverance and courage go a long way. Does that make it Oscar-worthy? It's a yes from me!
The rights of all photos, gifs and trailers belong to the associated production studios, ST.ART Magazine does not own the rights to the visual content used in this article.